Event Calendar
The Get Together season is most active from September – April. We know that many people spend May – August traveling and taking time off from work and networking so our events are limited during the summer months.

Our "Season Kick-Off" event will be on September 28, 2022 and we would love for you to join us! Please subscribe to our newsletter to be notified of upcoming events and learn more about our business network.

The Nonprofit Marketing Checklist: 5 Simple Steps to Raise More Money
December 9, 2021 @ 12:00 pm

-

1:00 pm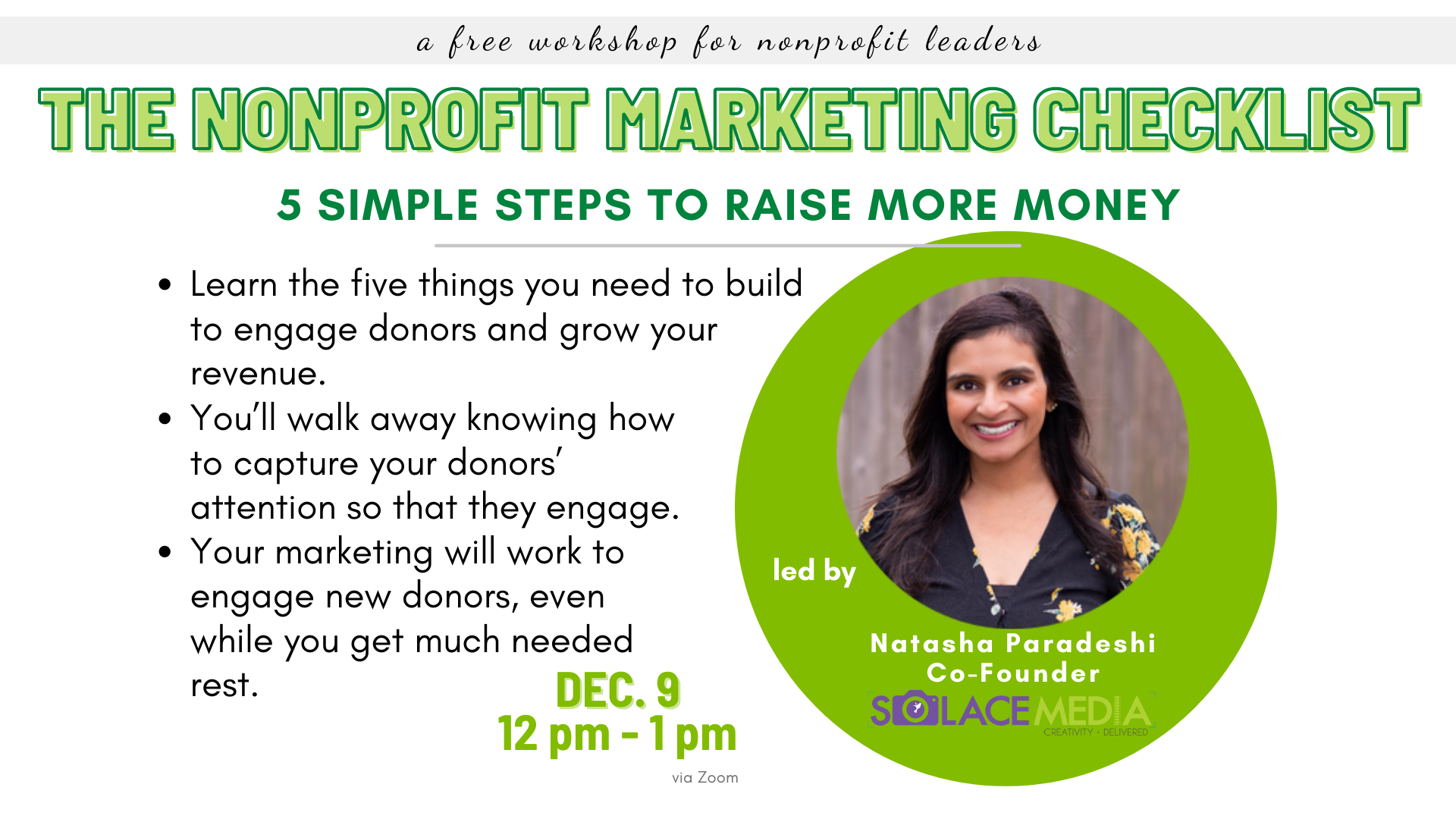 If you're like most organizations, you want to make sure the money you spend on marketing is actually bringing in new donations. If you knew what marketing collateral you needed and how to create them, you would. With every day that goes by without employing these marketing strategies, your organization misses the opportunity to connect with new donors – holding back the vital work you do. It doesn't have to be that way. In this webinar, Natasha Paradeshi from Solace Media, a StoryBrand Certified Guide, will share the five things you need to build to engage donors and grow your revenue. You'll walk away knowing how to capture your donors' attention so that they engage. Your marketing will work to engage new donors, even while you get much needed rest.
This workshop is open to any interested nonprofit, regardless of partnership with The Get Together. There is no charge to attend. This workshop has been generously donated by Solace Media, LLC.
Registration is required.
---
About the speaker: As a mission-minded marketer and a StoryBrand Certified Guide, Natasha Paradeshi is passionate about helping both for-profit and nonprofit organizations create compelling marketing that increases revenue and drives greater impact. In 2013, she and her husband, Sunny, started Solace Media, a marketing firm dedicated to helping organizations create a bigger impact through better marketing. From startups to multi-million dollar organizations, they have guided their clients to create and deploy marketing strategies that will help make the world a better place. They enjoy developing brand identities as well as provide marketing a la carte for organizations needing engaging videos, new websites or graphic design work. Natasha comes with a unique perspective to help nonprofits and driven people live out their calling. In 2015 she co-founded The Landing, an anti-human trafficking nonprofit in Houston, and served as its Executive Director for four years and now serves as its Board Chair. While serving as the Executive Director, she was responsible for strategic direction, development implementation, program oversight, and community engagement. She is a mental health advocate and is currently producing a documentary about Obsessive-Compulsive Disorder, expected to be released in February 2022. Natasha graduated from the University of Southern California with a Masters of Public Policy degree and from the University of Texas with a Bachelor of Business Administration and a Bachelor of Liberal Arts in Spanish. Natasha loves spending time outdoors with her husband and two children.