Event Calendar
The Get Together season is most active from September – April. We know that many people spend May – August traveling and taking time off from work and networking so our events are limited during the summer months.

Our "Season Kick-Off" event will be on September 28, 2022 and we would love for you to join us! Please subscribe to our newsletter to be notified of upcoming events and learn more about our business network.

Discovering & Overcoming Your Barriers to Performance
May 4 @ 1:30 pm

-

3:00 pm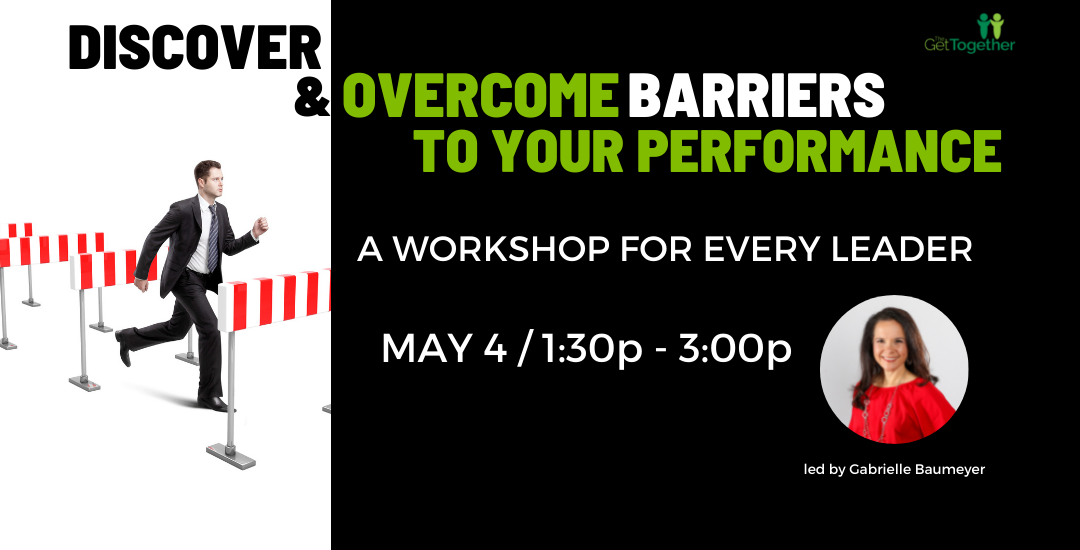 This is a virtual event held on Zoom. Registration is required.


Every leader has barriers and "invisible stops" that inhibit high-level performance. These barriers are often unrecognizable and lurk in our "blind spots". In this workshop, Gabrielle Baumeyer will share techniques for not only recognizing barriers to performance but how to remove them with skills that are already embedded in your leadership DNA. Attendees will identify the red flags of "invisible stops" and then create a plan to conquer and remove anything that would otherwise inhibit their ability to ensure long-term success.
Learning objectives/outcomes
1.     You will learn how to recognize concerns and considerations that inhibit action and stifle results.
2.     By removing barriers to performance, you will experience reduced levels of uncertainty and stress, knowing your company can sustain and grow during uncertain times. 
3.     You will have the confidence to connect with existing and potentials clients resulting in expanded results and success for your organization. 
4.     You will leave the workshop ready to take actions that set the foundation for continued success.
This is a FREE workshop and is offered generously as a gift to our business community by the presenter, Gabrielle Baumeyer.  It is open to everyone, regardless of their affiliation with The Get Together. Registration is required. CLICK HERE to register.