Event Calendar
The Get Together season is most active from September – April. We know that many people spend May – August traveling and taking time off from work and networking so our events are limited during the summer months.

Our "Season Kick-Off" event will be on September 28, 2022 and we would love for you to join us! Please subscribe to our newsletter to be notified of upcoming events and learn more about our business network.

Coffee for a Cause May 6
May 6 @ 8:30 am

-

10:00 am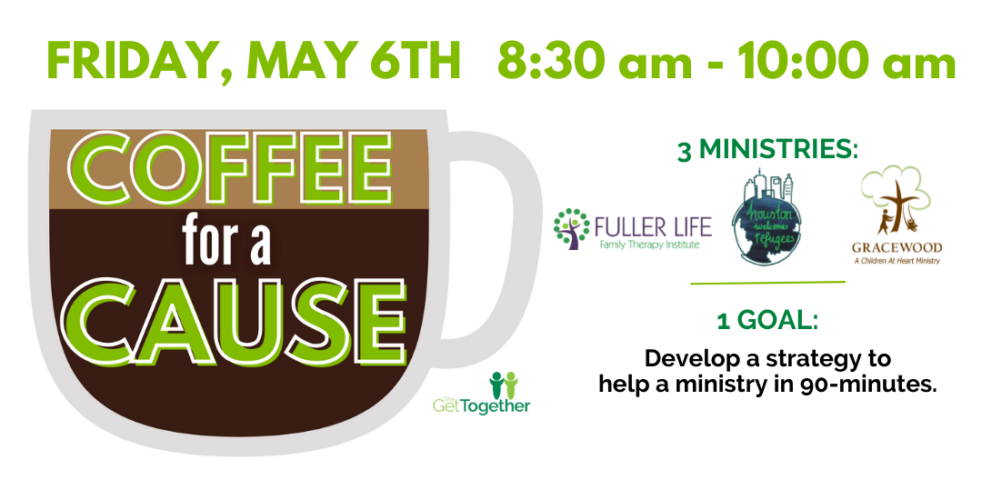 A free event designed for business professionals and industry leaders. Hear 3 pitches from vetted nonprofit ministries who need help with a professional skill. Choose the ministry you'd like to help. Spend time volunteering virtually with like-minded business leaders as you collaboratively work together to solve the ministry's toughest challenge. Build your professional network and give back…but grab your coffee! It will be fast-paced and you'll need your energy! Registration is required.
The theme for this event is:  LEADERSHIP DEVELOPMENT STRATEGY

Do you have skills in leadership development, identifying and defining leadership skills, developing leadership strategies for growth, cultivating and equipping resilient leaders or identifying the right types of leaders needed for an organization ? Or are you trained as a life coach or leadership coach? Or do you know what opportunities to look for to help a young leader grow and develop? Are you a consultant or a manager of teams? Do you work in HR or build strategic development teams? Or do you have a passion for helping people grow and be their best in leadership? If so, then we need YOU to join us for this event!
Watch the "pitch videos" here: